UNODC FEATURED STORY ON CGR-NIOC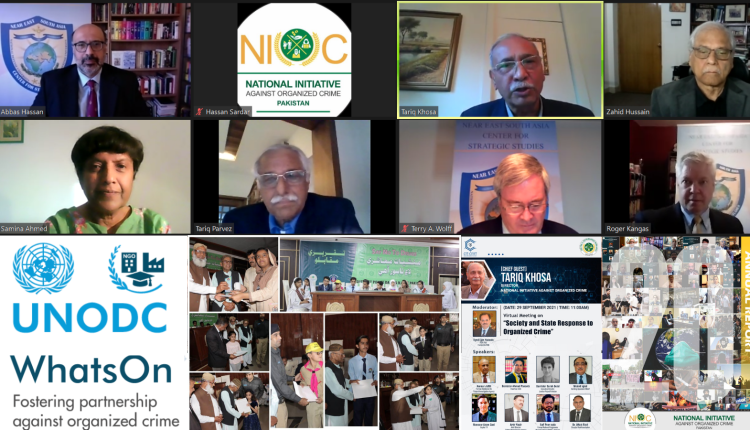 Making a difference against serious and organized crime in Pakistan
United Nations Office on Drugs and Crime (UNODC) has been working in Pakistan for over 35 years, in close collaboration with the Government of Pakistan and civil society, with the purpose of addressing development challenges, specifically related to drugs and crime. This kind of multistakeholder cooperation among UNODC, the Government of Pakistan, and civil society brings about differentiated impacts on the ground. One such case is the Centre for Governance Research (CGR)-Pakistan – National Initiative against Organized Crime (NIOC). This organization is taking a leading role in convening governmental and non-governmental actors for the engagement in the Review Mechanism of the UN Convention against Transnational Organized Crime (UNTOC).
Former Federal Secretary for Narcotics Control and an expert at the Global Initiative against Transnational Organized Crime Tariq Khosa from CGR-NIOC, has taken part in capacity building activities of the SE4U project that the UNODC's Civil Society Unit is implementing in collaboration with the Global Initiative against Transnational Organized Crime (GI-TOC). CGR-Pakistan supports the Government of Pakistan's UNTOC review team through building a coalition of civil society organisations (CSOs)/non-governmental organisations (NGOs) working to prevent and combat organized crime in Pakistan. There is a trilateral partnership to support the engagement of non-governmental stakeholders from Pakistan in the review process, including through a Pilot Initiative: UNODC CSU; Vienna/Geneva-based GI-TOC; and the CGR-NIOC in Pakistan. The CGR-Pakistan's intention is to ensure that civil society is engaged as an active stakeholder in the UNTOC Review Process. As part of non-governmental stakeholder's engagement in the UNTOC Review in Pakistan, Tariq Khosa and his colleagues are working closely with UNODC CSU and GI-TOC for active CSO engagement.
Tools for engagement 
The sample letter to a government contained in the Guide for Civil Society which was developed by UNODC-CSU and GI-TOC has successfully been used by NIOC to establish contact with government officials responsible for the review process. Additionally, the 'easily-to-understand' questionnaire developed by GI-TOC has proved to be a valuable entry point for civil society as it connects specific points of the self-assessment questionnaire with 'on-the-ground' issues such as rights for victims of trafficking. The initial meeting with UNODC in September 2021 was a success and there is a plan to follow up on that initiative to engage with the Government of Pakistan Focal Point, additional Director General of the Intelligence Bureau to offer civil society collaboration throughout the UNTOC Review Process. As part of this partnership, NIOC aims to organize a meaningful seminar or conference on forging an effective response of society and the state against serious and organized crime in Pakistan.
Playing in the big leagues 
The Centre for Governance Research (CGR)-Pakistan started as a small group of professionals in November 2019 to build civil society resilience against organized crime in Pakistan. Gradually they worked to make a difference at the national, regional, and global levels –something they achieve based on strong networks and alliances. The CGR-Pakistan has issued policy briefs, papers, and studies in various areas of organized crime such as drug trafficking, migrant smuggling, human trafficking, cybercrimes, terrorism financing and money laundering just to name a few. Another important milestone for Tariq Khosa and his team was to carry out a comprehensive study on Countering Religious Extremism in Pakistan. This was an important advocacy project that resulted in a move by the Government of Pakistan to work on a new National Counter Extremism Policy through the National Counter Terrorism Authority (NACTA). Currently, Tariq and his team are working on a National Strategy to forge an effective society and state response to serious and organized crime in Pakistan. This will be the first-ever national strategy.
In conclusion, Tariq Khosa believes that their currency is trust and their vision is to make a difference against serious and organized crime in Pakistan. "We also want to promote international cooperation in the areas of criminal justice, law enforcement and the rule of law", – stressed Tariq Khosa.