Intelligence failure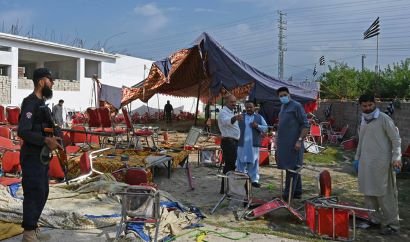 BESTIAL violence once again stalks the land. There have been 18 suicide bombings already this year, surpassing the 15 such attacks during all of 2022. The horror of the latest one, in Bajaur district's Khar tehsil on July 30, continues to unfold as poignant details about the victims come to the fore and the critically injured breathe their last in hospital.
So far, over 50 people have lost their lives, almost half of them minors. The militant Islamic State-Khorasan group claimed responsibility for the attack at the JUI-F rally in which the principal target appears to have been the party's Khar ameer, Ziaullah Jan: the event had been underway for two hours but the attacker detonated his explosives-laden vest only after the former arrived at the venue. Maulana Ziaullah and his 22-year-old son died in the attack.
On July 31, MNAs denounced the attack as the result of "complete failure" on the part of Pakistan's multiple intelligence agencies. It is difficult to disagree, considering these agencies have now had decades of experience in dealing with terror groups and security forces have carried out a number of 'intelligence-based operations' against them.
Their inability to prevent the Bajaur bombing has handed IS-K its biggest mass casualty 'success' since the sectarian attack on a Peshawar mosque last year, in which at least 64 people perished.
A recent UN report noted that in Afghanistan, distinctions between members of Al Qaeda and affiliated groups, including TTP, and IS-K are sometimes fuzzy and that there is a "tendency for people to gravitate towards the dominant or ascending power". Attacks such as the Bajaur bombing are thus useful for terrorist outfits to 'burnish their credentials' and attract recruits.
Moreover, there had been consistent indications of IS-K's presence in Bajaur, which is contiguous with Afghanistan's Kunar province — well known as a locale for terrorist training camps. The militant outfit had made an assassination attempt on Maulana Ziaullah last year as well and slain at least another cleric in the district. Had the attackers been tracked down, perhaps Sunday's tragedy could have been averted.
Some experts believe that IS-K militants, under pressure from the Afghan Taliban, have moved from their bases in Afghanistan and set up cells in major cities in Pakistan where they can more easily avoid detection. Several targeted killings in Peshawar this year of religious scholars as well as members of minority communities were traced to a network of IS-K militants — all Afghan nationals — in the city.
With an election around the corner, political parties must have security protocols in place in coordination with law-enforcement agencies. The intelligence apparatus should be streamlined and work in concert under an empowered Nacta. We cannot afford blurred lines between politics and national security — or a bloodbath could be in store.
Source: Dawn, August 2, 2023