MINUTES OF NIOC'S 33rd ADVISORY BOARD MEETING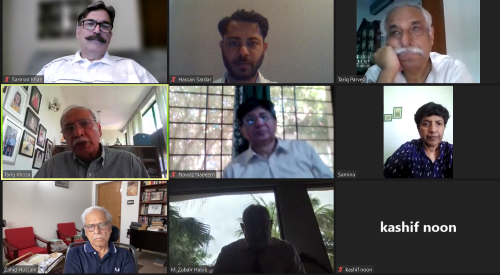 The 33rd NIOC's Advisory Board Meeting was held on Monday 18 July 2022 at 2 pm. The following AB members participated: Tariq Parvez, Zahid Hussain, Samina Ahmed and Zubair Habib. Jawaid Akhtar could not attend due to his other commitments. NIOC secretariat was represented by Tariq Khosa, Sarmad Saeed, Kashif Noon, Nawaz Nadeem and Hassan Sardar.
The following matters were discussed:
1) UNTOC Review process update was given. National Focal Person on UNTOC Review Dr Ehsan Sadiq had finalized the first draft of the responses to the self-assessment questionnaire which would be shared with GOP stakeholders, CSOs concerned and Experts identified so far.
2) A Civil Society Alliance of CSOs and Experts is being forged for their input and feedback on UNTOC implementation by the Government of Pakistan.
3) A UNODC Mission from Vienna will visit Islamabad on 12-16 September for the launch of the Pilot Project on UNTOC Review.
4) Policy Brief on Counter Terrorism will be written by Tariq Parvez and Zahid Hussain.
5) Policy Brief on Police Reforms will be written by Sarmad Saeed and Ali Nekokara.
6) CGR-NIOC will build a long-term Civil Society Alliance against Organized Crime in Pakistan. Close coordination with the UNODC Civil Society Unit will be ensured.